Coronavirus in Mexico Surges
Mexico has reported an increase of 12,081 new Coronavirus cases on Friday. This represents a spike of 8.3% over a period of two weeks and the highest number of new cases recorded in a single day since the world wide epidemic began. However, this figure does not represent the number of new cases detected in the past 24 hours. This pushes the total number of coronavirus cases to 1,090,675. With a current population of 128,649,565 inhabitants, this translates into an infection rate of approximately 0.848%. By contrast the infection rate for the United States is estimated at 4.08% (total number of confirmed cases at 13,364,817 and a current population of  328,239,523.
However some hospitals in Mexico City are already at capacity because the beds have filled up with coronavirus patients. According to a map that was put out by the Mexico City Government, numerous hospitals are already at capacity. A traffic light monitoring system was instituted in June 2020 by the Federal Government of Mexico to control the spread of the coronavirus. It monitors the epidemological risks in each of Mexico's 32 states provides advice on what activities should be restricted.
Mexico City Government Interactive Map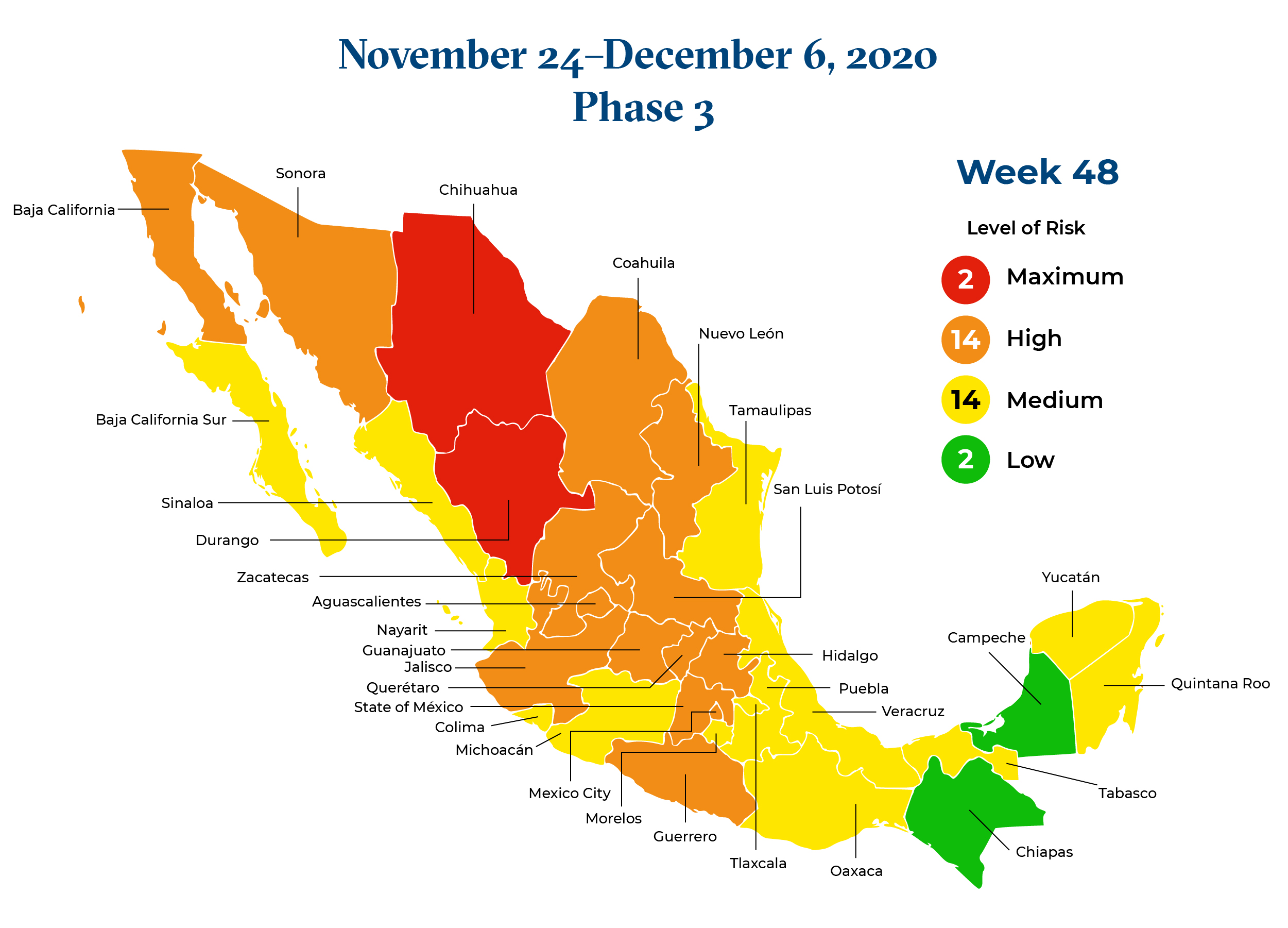 This map shows the highest rates of coronavirus are in two states Chihuahua and Sinaloa. Meanwhile, right across the border in Texas sits one of the most dangerous covid19 hotspots in the United States (El Paso, TX) which has dealt with the number of coronavirus cases spiraling.
Mexico-COVID-19-Traffic-Light-Status-Chart-November-23-to-December-6
https://mexiconewsdaily.com/news/coronavirus/new-covid-cases-spiked-8-3-over-2-weeks/
https://en.wikipedia.org/wiki/United_States
https://www.bing.com/search?FORM=U501DF&PC=U501&q=United+states+coronavirus
https://ogletree.com/insights/mexicos-covid-19-traffic-light-monitoring-system-news-for-november-23-2020-to-december-6-2020/?utm_source=feedburner&utm_medium=feed&utm_campaign=Feed%3A+OgletreeDeakins+%28Ogletree+Deakins+-+All+Categories%29